Kethek, Crucible Goliath is a fun new Rakdos commander that can be built on a variety of budgets, has access to both combo and non-combo win conditions, and has a semi-random effect that can lead to every game feeling unique without ever being inherently oppressive.
Feed the Beast
Kethek needs something to eat every turn in order to churn through and produce something new from your deck. To accomplish this, we can throw in some creatures that are nigh-impossible to get rid of, such as the Squees & Rekindling Phoenix. If you don't feel like sacrificing your own creatures and want to find something bigger and juicier in your deck, feel free to use as many Act of Treason type effects as you like, and just eat your opponents commanders or bomb-tier threats.
Combos
Combos for the deck can vary, from standard Rakdos fare like Zealous Conscripts & Kikki-Jikki, Mirror Breaker to some more involved lines revolving Around Mikaeus, the Unhallowed, a sacrifice outlet, and cards such as Puppeteer Clique with a Blood Artist type of effect. For non-infinite, value combos, Kethek Pairs great with cards such as Flameshadow Conjuring & Dawn of the Dead, providing extra value from your creatures and giving your commander something to eat every turn. Or, if you prefer a big bomb-type finisher, it's hard to go wrong with old favourites like Rise of the Dark Realms or Insurrection. As always, make sure to consider the power level of your playgroup when considering which combos to run, if any at all.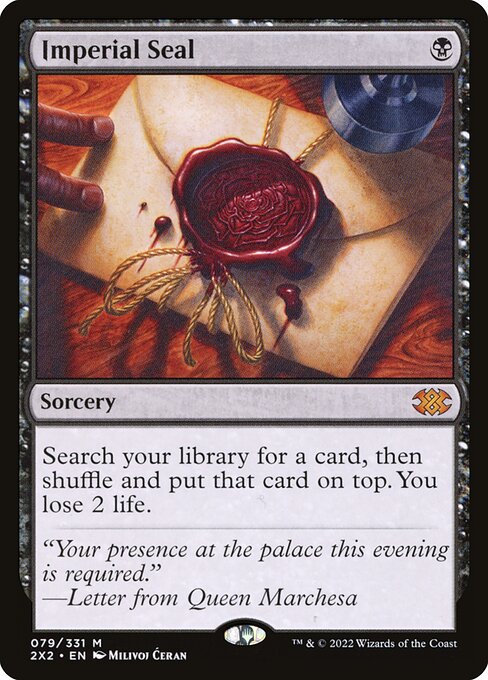 Imperial Seal
Tip: Use cards like Imperial Seal, Vampiric Tutor or Scheming Symmetry to guarantee the creature card that Kethek Pulls out of the deck! Or try lands such as Volrath's Stronghold or Witch's Cottage to reuse the creatures from your graveyard!
$77.96*
Connect with people that
eat, sleep and dream commander
You've been invited to join
While the latest return to what was once Mirrodin did not provide many legendary creatures that excited me, Kethek, Crucible Goliath was a welcome exception. Churning out value and providing a use for all those creature-stealing red cards that have been gathering dust in your draft chaff boxes, Kethek should be an enjoyable commander for years to come as it's all but guaranteed to receive a few new cards to potentially play with each new set release, due in part to it's relatively generic and customizable ability.