Maximum Annoyance with Plausible Deniability
Untap. Upkeep. Trigger. Learn these 3 words and learn them well. This deck is all about garnering the most advantage in a turn rotation, every turn rotation. You're the main character in this universe right? Sick of waiting for other people to play out their turns, and just want to play more things, but unwilling to fully commit to being "The Extra-Turns Narset Guy"? Start sleeving up your new commander, Volrath, the Shapestealer.
Main Theme
A favourite strategy of mine lately, which has led me to having some amazingly fun games, is going tall and wide at the exact same time. It started with updating one of my commander decks after a long break and realizing how good Koma, Cosmos Serpent was. Then in my Pre-8th Edition only commander deck, realizing just how much work Verdant Force was consistently putting in. Then I thought, why not just play literally all of them?
Wolverine Riders, Thieving Amalgam, Toxrill, the Corrosive, Verdant Embrace, Ophiomancer, just every one of them I could find. Throw in some added spice like Fatespinner, Molder Slug and Magus of the Abyss and whoa now, we've got a new deck. To ensure we have access to them all, we play a few tutors such as your standard Demonic Tutor and Worldly Tutor. It really takes off with Shared Summons and Threats Undetected. The former is pretty self-explanatory, but with threats, we have enough "army in a can" creatures to select that it won't matter which 2 they choose to give us! Talk about damned-if-you-do, damned-if-you-don't. To take advantage of the token armies and go for the win, we also have great stuff such as Liliana, Dreadhorde General, Craterhoof Behemoth, Blood Artist, and a surprising overperformer in Glorious Sunrise.
Subthemes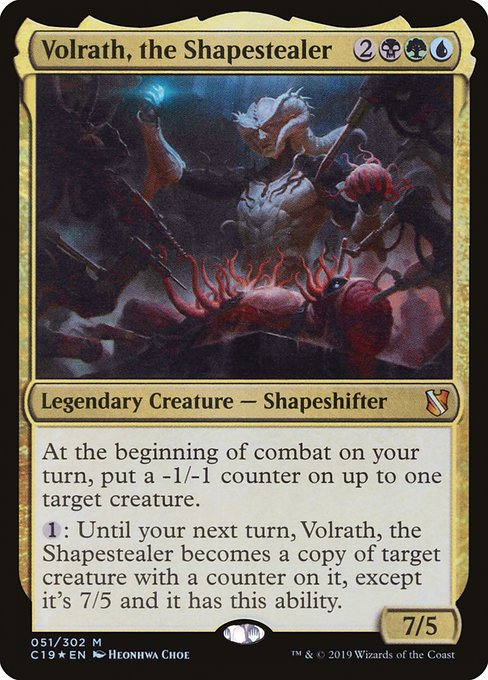 Volrath, the Shapestealer
You may have noticed I haven't spoken much about the commander. In this deck, it was a bit of a struggle to find something that fit within the colour combination I wanted to go with that also had enough of a synergistic effect without just being a generic value piece. When I stumbled on Volrath, I was immediately inspired to go for a Clone Subtheme.
Volrath's ability lasts a complete turn cycle, which is perfect for copying some of our nonlegendary value generators such as Molder Slug and Verdant Force. He can even become one of our opponents creatures in a pinch, or shoot down low toughness creatures with his ability to put a -1/-1 counter on creatures. For our other clones, since a lot of our value generators are legendary, cards such as Spark Double and Sakashima of a Thousand Faces that bypass the legend rule work perfectly and help us to double up. There aren't too many as of now, but I would expect to add more as they are inevitably printed due to the popularity of the format.
$*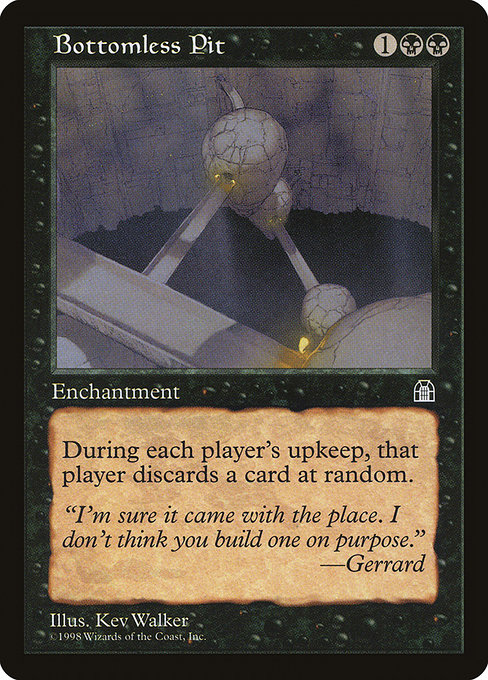 Bottomless Pit
Next we have a Discard Subtheme. We really want to make sure that we're the ones getting the most value out of every turn rotation, so we're not just going to build up our army, we're going to strip away their resources. Necrogen Mists, Liliana, Waker of the Dead and The Raven Man. Meanwhile, our hands will stay stocked with Liliana, Dreadhorde General, Moldervine Reclamation and Skullclamp.
While not discard, Magus of the Abyss, Sheoldred, Whispering One, Molder Sug and Essence Flux are just as oppressive. Toxrill, the Corrosive pulls double duty, thinning out our opponents creatures and replacing them with an army of slug tokens.
$1.82*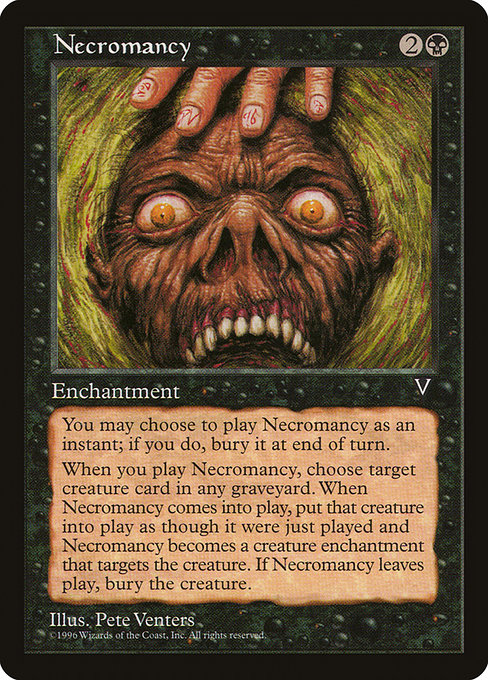 Necromancy
Finally we have a Recursion Subtheme. With all of the discard and our focus on some specific creatures, it just made sense to include a few classic options like Animate Dead and Dread Return. Eternal Witness continues to be a green staple and is joined by some newer friends like Timeless Witness and Dryad's Revival. Since we're in sultai colours anyways, Muldrotha, the Gravetide is too good not to run, and The Mimeoplasm can come in as a supercharged version of one of our "army in a box" creatures. Just when they thought they'd finally killed Koma for good…
$18.30*
Conclusion
Connect with people that
eat, sleep and dream commander
You've been invited to join
I've been on a bit of a deck brewing spree lately, but few have really grabbed me as much as this has. I think if I ever want to switch up my current sultai deck, Brokkos, Apex of Forever, then this is going to have to be it. It's just too much fun. Sure it's not the most competitive deck out there, but if you want to win, go play Thassa's Oracle combo or something. If you want to lose, but lose in style, give Volrath the Shapestealer "every upkeep is YOUR upkeep" tribal a try. And be sure to let us know if you do! I'd love to hear how it goes.