Since there are constant new pieces for this infinite mana dork we may as well have an article devoted to breaking down some of the combos. While Devoted Druid is a simple 2 drop tap for green 0/2 elf it can untap itself by placing a -1/-1 counter on itself. Now that should mean an extra mana perhaps once right? Well, that's not how it went, and now we have all sorts of infinite combos. Let's go through some shall we.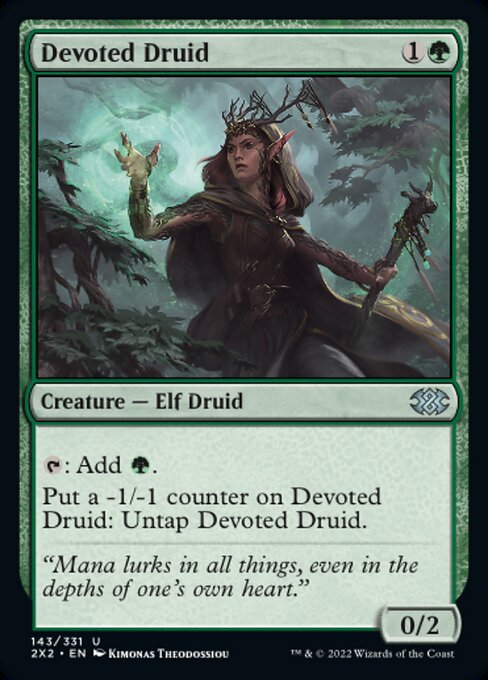 Originally a common from Shadowmoor it had an infinite combo within the same block in Eventide with Quillspike. Mind you it's more of a Quillspike infinite power combo than a Devoted Druid combo but still.
There was not many new pieces up until Amonkhet where Vizier of Remedies was printed. With another set which had an ability mechanic revolving around -1/-1 counters it found an effective counterpart. With Vizier of Remedies replacement effect the cost to untap Devoted Druid became free.This combo saw some effective play in modern to sink infinite mana into Duskwatch Recruiter and kill with Rhonas the Indomitable. Every piece was within range to hit with Collected Company and became quite the deck for awhile. It was a couple of years later that we started getting all sorts of pieces.
The next card was actually shown first as a Mystery Booster test card Enchantmentize. With One With The Stars enchanting Devoted Druid it was no longer a creature but still kept both it's mana ability and it's untap ability. Not being a creature anymore means it doesn't have a power or toughness and will not be able to die from State-Based Actions. This became increasingly common as an effect and with each new card doing so gives Devoted Druid another infinite combo in the same vein, so let's run through it.
We'll repeat the same syntax for the the following which is removing the limitation of being a creature both by not being effected by the -1/-1 counters and being free of summoning sickness. Rather than going over how to tap and untap let's go over some of the benefits of each of the next cards.
Myrkul, Lord of Bones works as a Commander homer for Devoted Druid. It creates an enchantment token when it dies which is easy because it can add the -1/-1 counters to kill itself. Once on board it's difficult to stop short of a Stifle on Myrkul.
Swift Reconfiguration is the lowest cost combo piece for Devoted Druid. With Flash it can become an unexpected infinite mana play. Also great as a pseudo removal piece.
Captain Rex Nebula may not fit easy for colours and is only temporary but it is easy to repeat the attempt again if disrupted, unlike if you lost one of the aura cards for instance.
Machine God's Effigy is a clone effect that remains an artifact. You get to keep Devoted Druid while gaining an artifact that taps for either infinite blue or green.
So there's definitely a few ways to get Devoted Druid to get you infinite green mana. Some are more temporary than others. Going back to removing the counters as an option for instance Tayam, Luminous Enigma has a lovely combo of using those counters and mana to mill your whole deck and recur every permanent 3 cost or lower. We just need to give Devoted Druid a little boost. It only needs +0/+2 technically but Tayam uses Giant Growth effects like Hashep Oasis or Seal of Strength. I personally like using Swords of X and Y such as Sword of Feast and Famine though so let's do that.
The amount of ways to get infinite value from Devoted Druid goes on and on. Boosting it's power, removing the counters, stopping it from being a creature, this is without going into copying the ability (sorry Necrotic Ooze maybe another time). Like other combos it boils down to the untap ability and it's abuse. So let me know any thoughts on this combo, if you run it, if you like it, etc. Until next time go combo off and happy shuffling.