Ghired is a Selenya shaman turned to the alignment of the Gruul from witnessing Ilharg, the Raze Boar during the events of War of the Spark. Lore is fun and all to see that Ghired keeps the Selesnya roots by calling on creature tokens and populating but the Gruul enjoy smashing things and that's just what he does.
Out of the legendary creatures on the faces of the Commander 2019 decks Ghired is a favorite. As a 5 cost, 2/5 creature bringing along a 4/4 trample friend which he can call more friends of that's 2 bodies with a total of 6 power and 9 toughness. It's a great point in any part of the game to be able to bring in a couple of extra bodies and threats so let's see how much more threatening we can make things.
Synergies
Warstorm Surge: This is a pet card that doesn't usually make the cut but with the amount of power being dropped in this enchantment lets you Soul's Fire things as your creatures enter the battlefield. Take out creatures, planeswalkers, and players ever before you swing.
Doubling Season / Parallel Lives / Anointed Procession: What's better than one token? Two, then four, then eight as these token doubling effects set you up for a vicious and deadly board out of each token you create. Doubling Season also does wonders with our planeswalkers, bringing them to ultimate loyalty range upon entering the battlefield.
Flameshadow Conjuring: Of course the deck is not all tokens, but we can make every creature into a token for the low cost of 1 red when they enter the battlefield. They have an exile clause though, but that is only linked to the token created by Flameshadow Conjuring. When you Populate using an effect like Ghired the token will not have that same clause.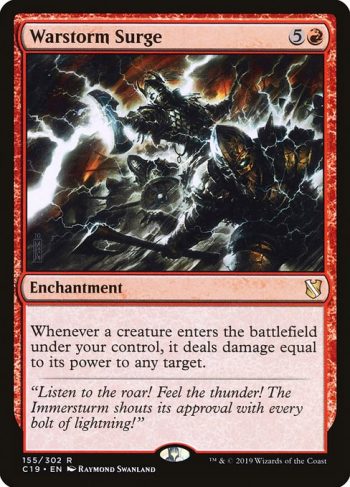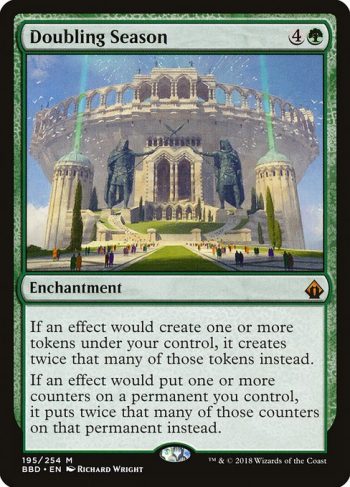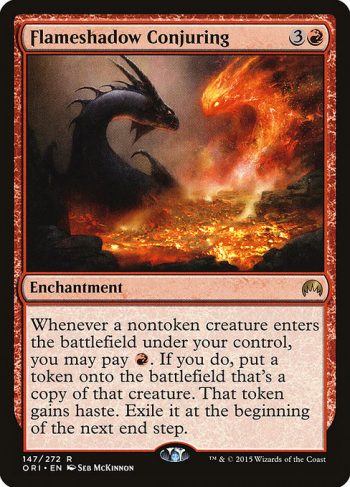 Combos
Godo, Bandit Warlord / Aurelia, the Warleader + Helm of the Host: It's mainly because we're playing Helm of the Host and with Ghired is a lot of math and populating tokens but these finishers are great. Godo can tutor for the helm or any other equipment and Aurelia is evasive and vigilant. Both provide extra combat phases going infinite with Helm of the Host but Godo can't untap anything else besides himself and samurai you control. To those who don't know how this combo works you create and attack with the tokens of the creatures created at the beginning of combat, then gain another combat phase, then repeat until you're enemies are gone.
Kiki-Jiki, Mirror Breaker + Zealous Conscripts / Restoration Angel: Kiki-Jiki is great in the deck and completely fits the token theme so may as well add in the infinite army combos. Even on their own Zealous Conscripts is always handy as a temporary gain control, untap, haste effect for permanents and has stolen a number of planeswalkers for me before. Restoration Angel is a great flying flash creature who can help Ghired dodge spot removal and bring in more rhinos.
Squirrel's Nest + Earthcraft: As long as you attach Squirrel's Nest to a basic land you can create an infinite army of squirrels. If you are able to untap with this army Earthcraft can also generate you infinite mana using the squirrels to untap and basics you have.
Eternal Witness Token + Rootborn Defenses: This is more of a neat trick for give indestructibility to your board on repeat. Using one of the many ways to create a token to have one of Eternal Witness we can cast Rootborn Defenses for indestructibility to your creatures and then populate. With the populated Eternal Witness token you retrieve Rootborn Defenses and net one Eternal Witness token each time.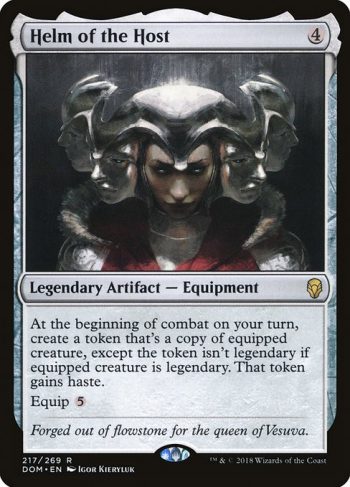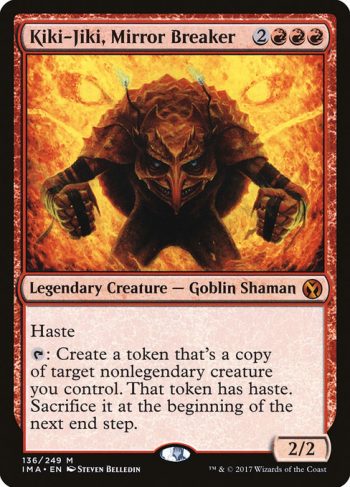 Tokens
What's the deck without tokens and support cards for them so let's see what we have and what we could play with.
Trostani, Selesnya's Voice: The Selesnya way seems to include a lot of life gain and creature tokens. Trostani works amazingly with Ghired not only curving into casting him but gaining 9 life if Ghired resolves. Life gain is a great way to stabilize and give you time to populate more threats as well.
Vitu-Ghazi Guildmage: Following Trostani is the Vitu-Ghazi Guildmage who's a great mana sink. It can be played early or late game and can create a token itself to populate.
Titania, Protector of Argoth: The 5/3 elemental that makes 5/3 elemental tokens does a lot of work for me. Returning a land from the graveyard is effectively ramp and returning fetchland will add a body on top of that. An all around powerful value card which generates you a good size token to populate.
Intangible Virtue: Sometimes it's the smallest enchantments that end up the most effective. Simply giving our token creatures such as the 4/4 trample rhinos a boost of +1/+1 and vigilance increases their threat level immensely.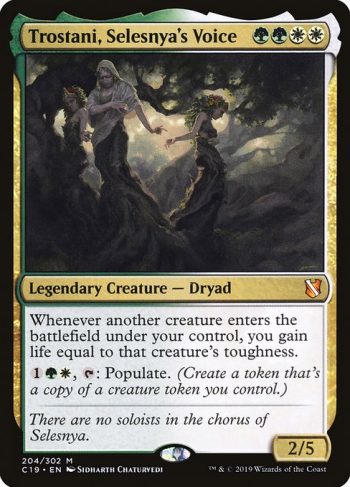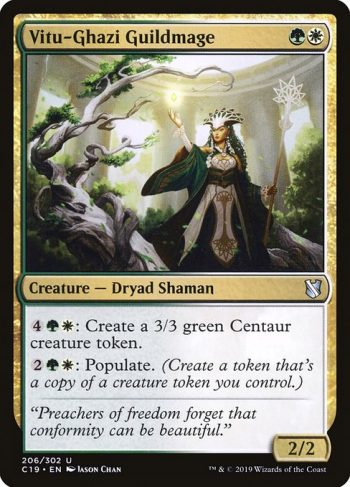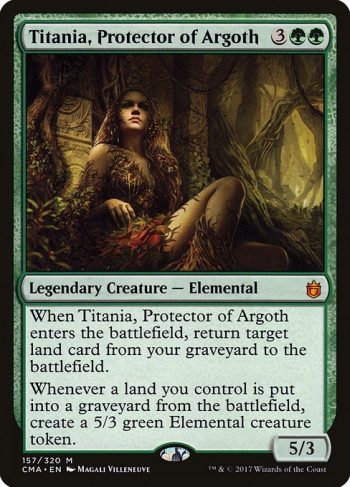 Balancing takes a lot of time and work for a deck and of course not everything makes it. Here are some options that you may find would suit your build more.
Summary
If you're looking for a Naya Commander with a strategy that goes wide with big bodied creatures then Ghired is happy to oblige. Crash in with an army of rhinos, centaurs, beasts, angels, elementals and whatever else you can bring out. While this is a deck made for high value plays with powerful support cards the strategy is still aggro in the end.
This deck variant went lighter on the going wide with tokens and populate things to make things more impactful and recover from board wipes easier. When you've lost all your tokens building a board from population is difficult. Ghired is strong and together with his rhino friends I can easily see him being able to overwhelm a table.
Connect with people that
eat, sleep and dream commander
You've been invited to join