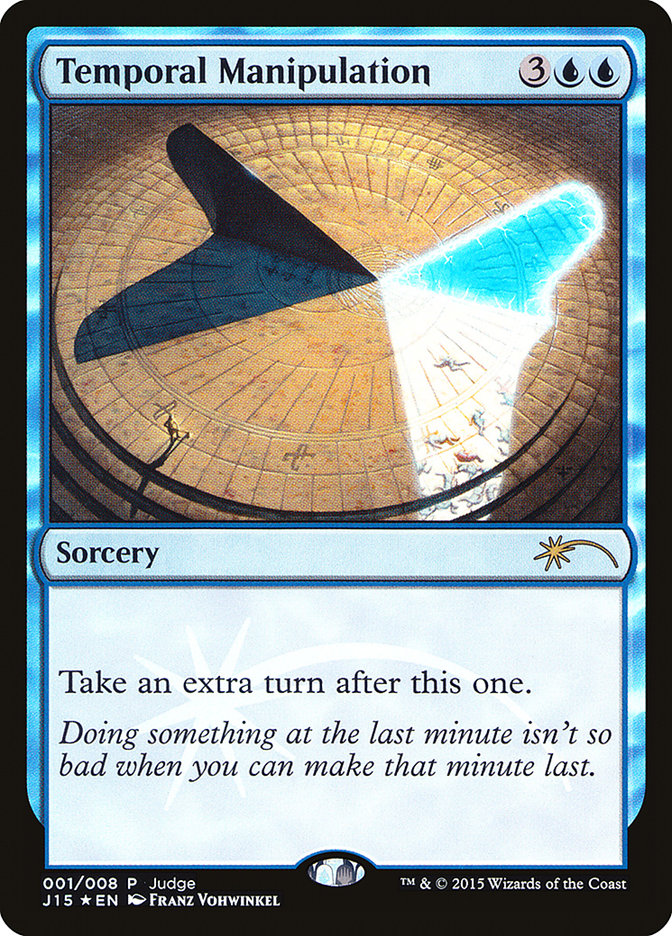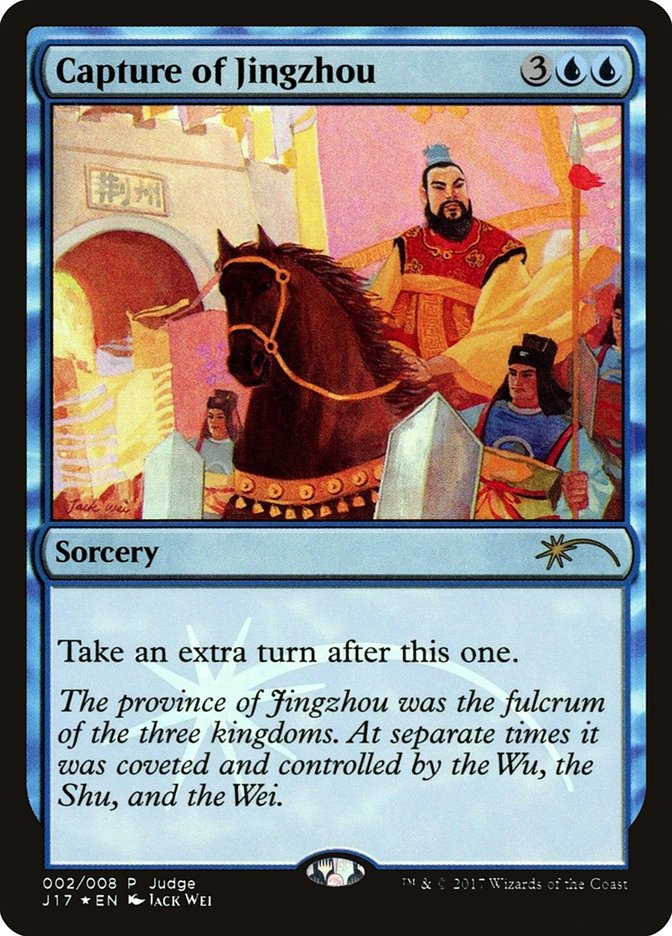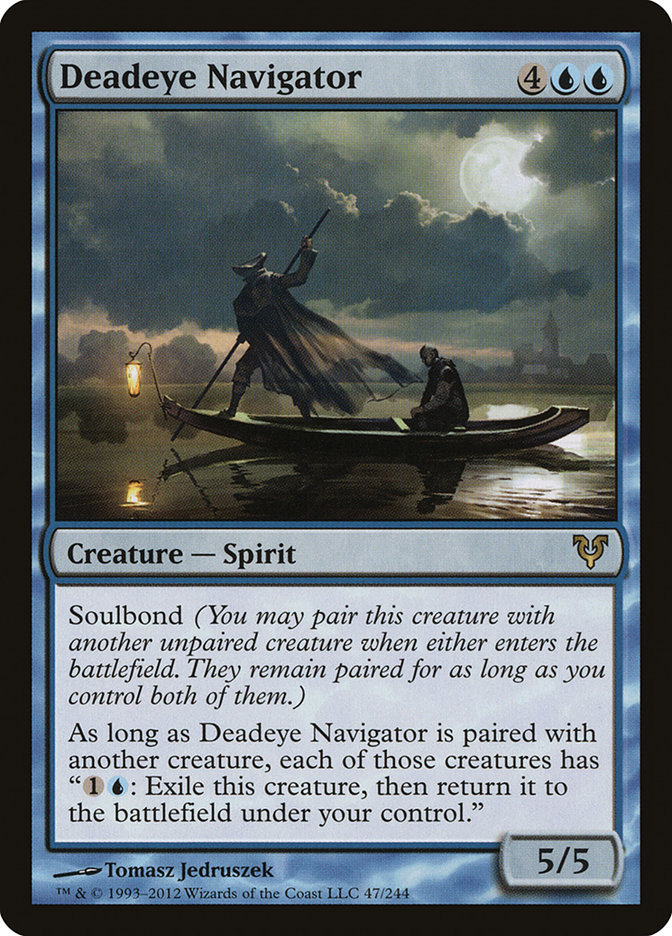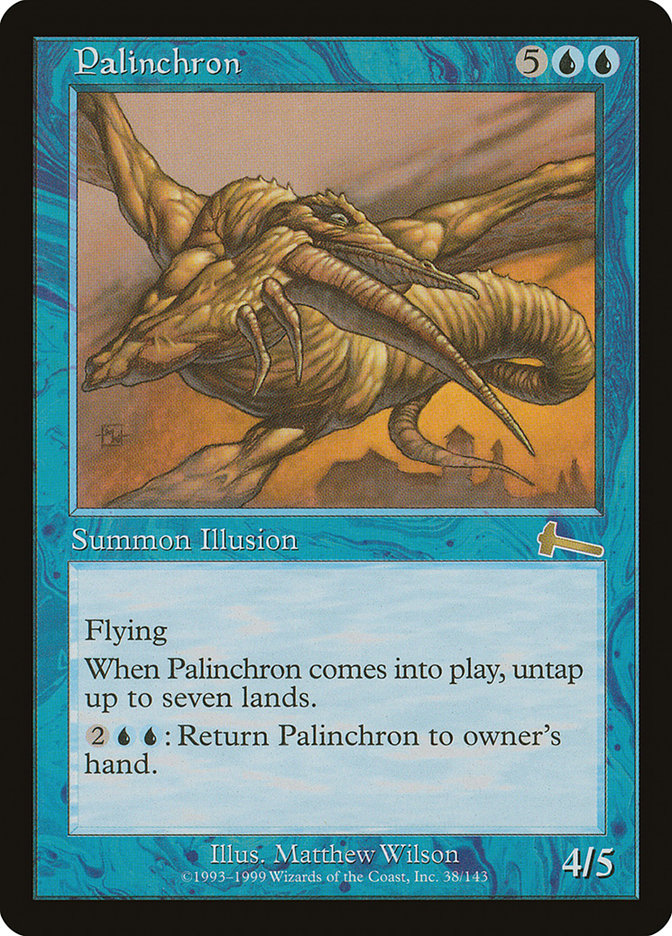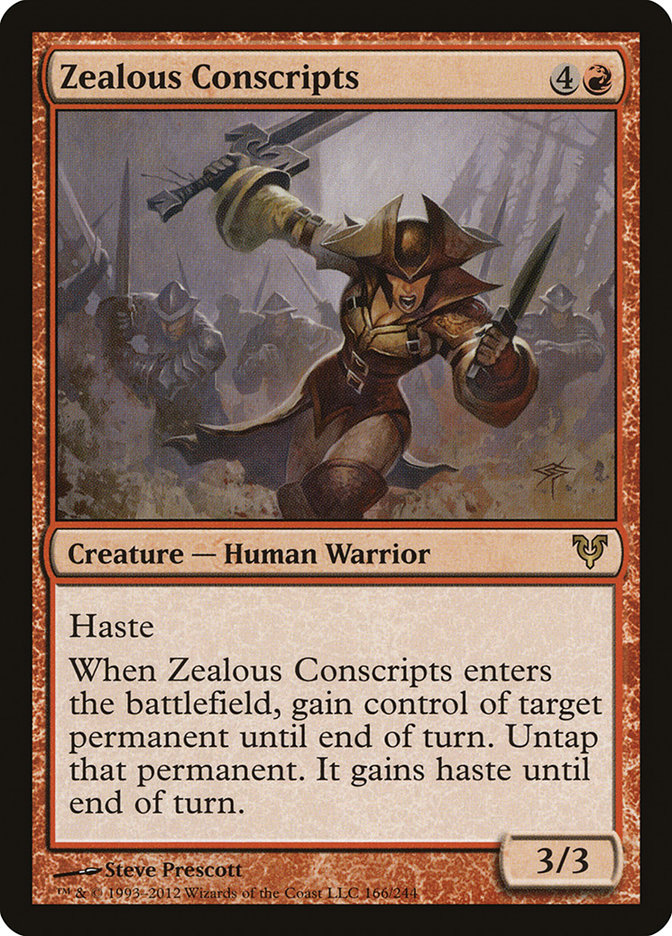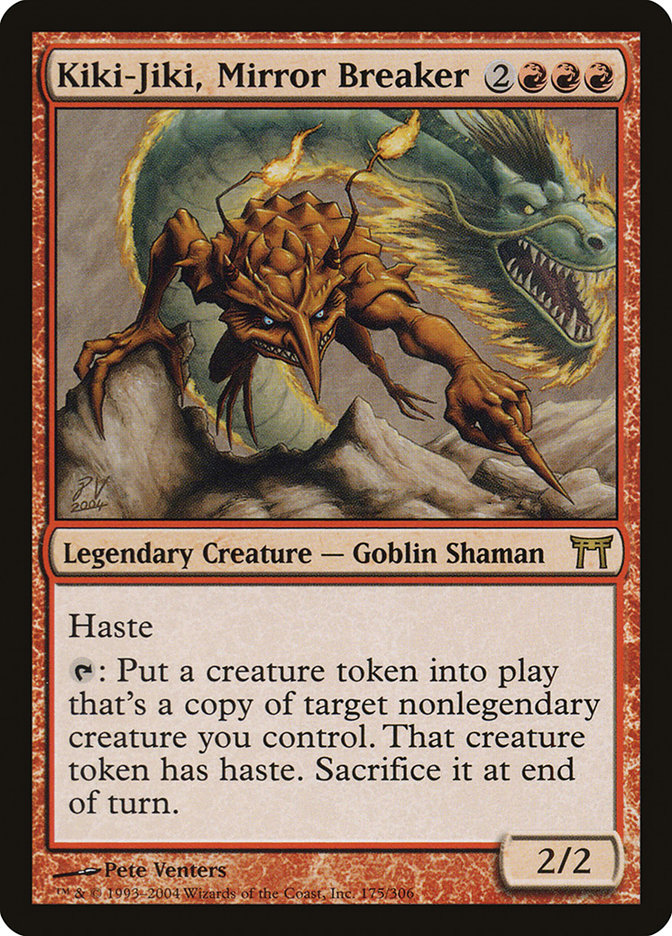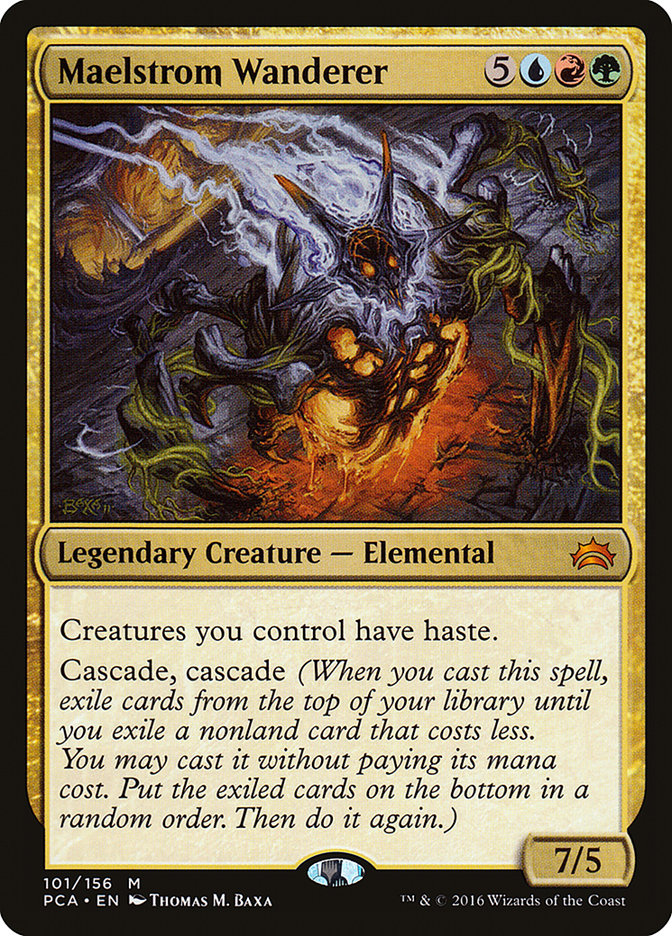 Maelstrom Wanderer is a 8CMC 7/5 Legendary Elemental Creature with creature you control have haste and Cascade, cascade. An aggressive powerhouse creature who 3 for 1's thanks to the double cascade. The additional haste can end up letting the player swing with not only Maelstrom Wanderer but any creatures it may cascade into.
Using Maelstrom Wanderer as a win condition is merely the back up line of play, the main goal is just to be faster and overvalue your opponents. A series of ramp spells and mana rocks can bring out Maelstrom Wanderer before your opponents have had a chance to set up letting you send your 7/5 haste commander right in their face. Having 7 Power is a magic number in Commander. It means 3 hits and a player is out from commander damage.

While you can just throw whatever ramp, big spells, and finishers you'd like into this deck I have tuned my variant into a ramp, aggro, combo version. The core of this has been straightforward and you would be able to spot cards that have come out since Maelstrom Wanderer was released in Planeschase have fit in brilliantly.
There is something to be said about the balance of optimizing a deck, having fun cards to play, and tuning to your own playstyle. This version is just my own preferences but remember there is pretty much no wrong way to build your deck.
Now may I present to you my Maelstrom Wanderer deck.
There are around 10 rotating slots in the deck to adjust for the popular meta, the groups power level, and the cards that upset people the most. There are only 2 land destruction/disruption cards in this version but you can easily triple that amount. Some cards are probably questionable to the optimization of the deck and some to the fun of it all but it's all mine and that's what's great about Commander.
Now I can go on for hours justifying cards, explaining synergies, and showing off combos but I will just point out a few notable card decisions and combos. If you have any questions or comments feel free to add them below.
Ramp and Rocks
There is a thin line between too many ramp spells and mana rocks that you hit them during cascades compared to not enough mana rocks to get Maelstrom Wanderer out fast enough. Fast mana is important to get the advantage though and hitting these spells can let you cast Maelstrom Wanderer again if and when it is removed. The best starting hands contain at least two of these spells though leading to some horrendously powerful plays to bring Maelstrom Wanderer out as early as turn 2 but usually turn 3 or 4.

To land a turn 2 Maelstrom Wanderer with my version requires Mana Vault, Mana Crypt, Gilded Lotus, land, and another piece of ramp. Turn 1 Mana Vault into turn 2 Gilded Lotus and ramp is good enough for me though, usually.
Defense
If you're not a control variant of Maelstrom Wanderer it can be strange to see any sort of Counterspells except when trying to pull off Spelljack. My criteria was simple, would I regret hitting this card during a cascade? My defenses are simple but effective to me, Mystic Confluence, Cryptic Command, and Venser, Shaper Savant. On top of being Counterspells they serve multiple purposes, for example each one is able to bounce Maelstrom Wanderer to recast, but I can also combo which each one.
Combos
Connect with people that
eat, sleep and dream commander
You've been invited to join
Lastly my favorite part of the decks I build, the amount of combos and interactions. I really didn't know how to do this part so we're just going to list them off the top and see when I stop.
Hopefully that will do for now. Infinite mana and turns tend to be enough so far. There are a number of outlets for the mana depending on what combo pieces you have but in general casting Maelstrom Wanderer will figure it out for you. I hope you enjoyed the first of many and I will revisit Maelstrom Wanderer again probably sooner than later with new cards for more interactions, synergies, and combos. Thanks for reading.