The face of the Commander 2020 Enhanced Evolution Sultai deck that revolves around the Ikoria Mutate mechanic. Otrimi, the Ever-Playful on it's own is just a 6/6 trample creature for 6 which feels like just a Colossal Dreadmaw at that point but it's strength is in the mutate mechanic and synergy.
Synergies
Thryx, the Sudden Storm: A flash flying creature that can come in out of nowhere. In addition to the 4/5 body he can be mutated and makes your 5 or more converted mana cost spells cost one less. Do you know what costs more than 5? Otrimi. Make use of the discount and do an uncounterable mutation for 3 mana.
Yeva, Nature's Herald: Wouldn't it be nice to mutate at instant speed? Yeva is happy to give Otrimi and every other green creature the ability to be cast as if it has flash. Being a solid 4/4 for 4 mana non-human and having flash herself she also acts as another great target for mutate.
Buried Alive: The best single spell to tutor for multiple creatures to throw into your graveyard. Whether a mutate creature to recover, a Bloodghast to use as a mutate target, or just a reanimation target it does what you need it to in the deck.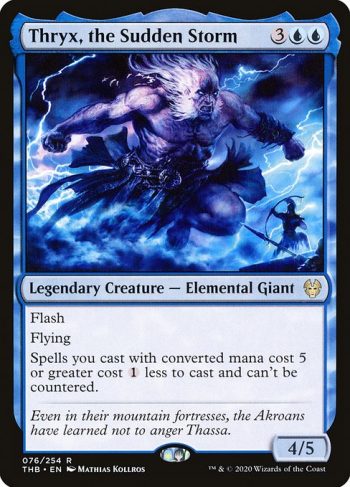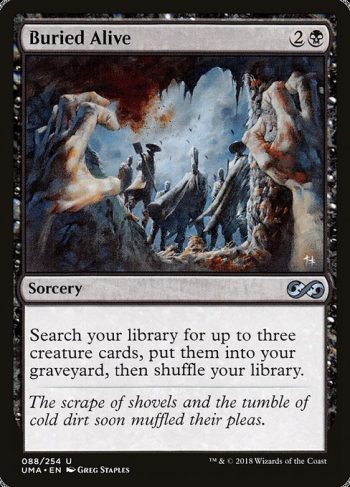 Mutate
Otrimi would be pretty vanilla as a Commander option without the ability to return mutate creatures from your graveyard to hand so we better make sure he has some friends to play with in the deck.
Brokkos, Apex of Forever: The legendary Sultai nightmare beast elemental 6/6 trample for 5 mana and mutate for 5 mana that can mutate from the graveyard. You can bet that he has a deck tech coming but for now he fits incredibly well in here.
Sea-Dasher Octopus: Probably the best little mutate creature out there for several reasons. The card draw is clear but as some mutation triggers count how many times a creature has mutated the fact it's a mutate with flash for only 2 mana is incredibly relevant.
Dirge Bat: Dirge Bat needs to be mentioned for so many reasons. It has both flash and flying and when it mutates it can destroy a creature or planeswalker an opponent controls. In this deck it has a ton of ways to two for one somebody and it's all advantage.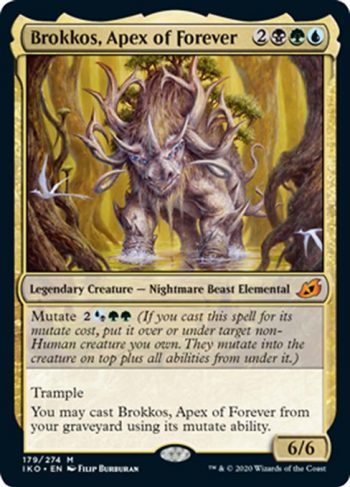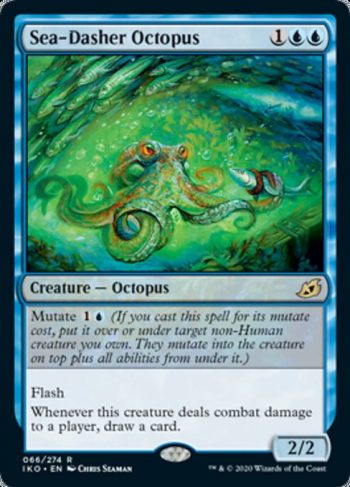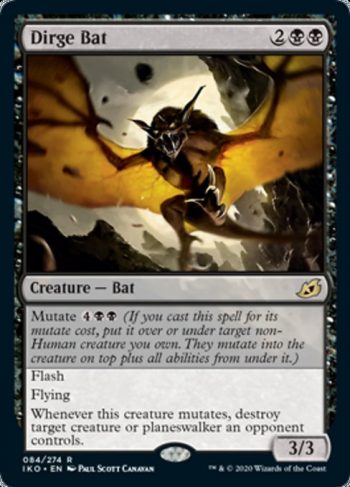 Hosts
No not like the Unstable Host/Augment type, though the Surgeon General Commander would like to be a part of this. We're talking about some nice mutate targets for the deck.
Hexproof/Bogles: Gladecover Scout, Slippery Bogle, Silhana Ledgewalker some nice small hexproof creatures to mutate without the risk of targeted removal. Too small? Well either mutate them or Thrun, the Last Troll and Stormsurge Kraken will be happy to oblige. Otrimi on top of Stormsurge is great it becomes a 8/8 Trample, Hexproof that draws if it's blocked.
Flash: On top of Thryx, the Sudden Storm and Yeva, Nature's Herald mentioned above it was Vendilion Clique and Ice-Fang Coatl that remained in the deck for both their cost and their utility abilities. Flash creatures in before your turn gives you something nice to mutate onto.
Haste: For the times you just need to hit fast we have Questing Beast, Yaheeni, Undying Partisan, and to an extend Bloodghast. Questing Beast is a pile of keywords, Yaheeni is a possibly indestructible and growing sacrifice outlet, and Bloodghast is pretty much a constant host target thanks to the landfall trigger.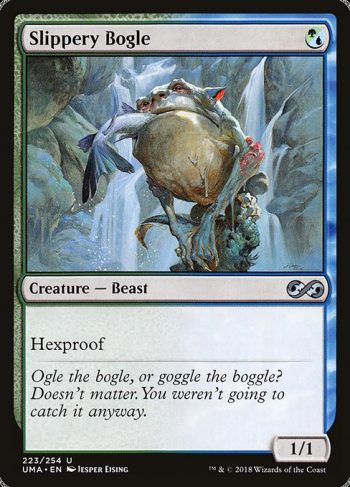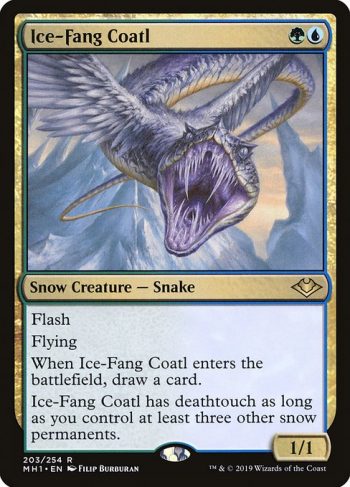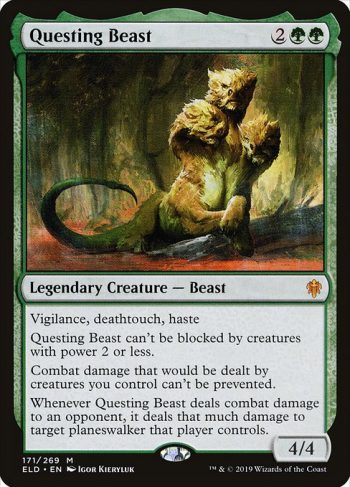 Summary
As the face of the deck and a card built around a core Ikoria mechanic I suspect we'll see these playful fellas around. It's an interesting mechanic with a lot of nuanced lines of play only possible with the combination of creatures. I think the most interesting aspect is being able to mutate any creature into your Commander.
This deck list version was built around a bogle/flash/value hosts to help support the mutate mechanic. It will definitely take a lot of practice to figure out the best timing and strategies with Otrimi but this one is pretty straightforward and maybe you can end up like Deadly Frolick and "tire your opponents out" until they stop playing.
Connect with people that
eat, sleep and dream commander
You've been invited to join