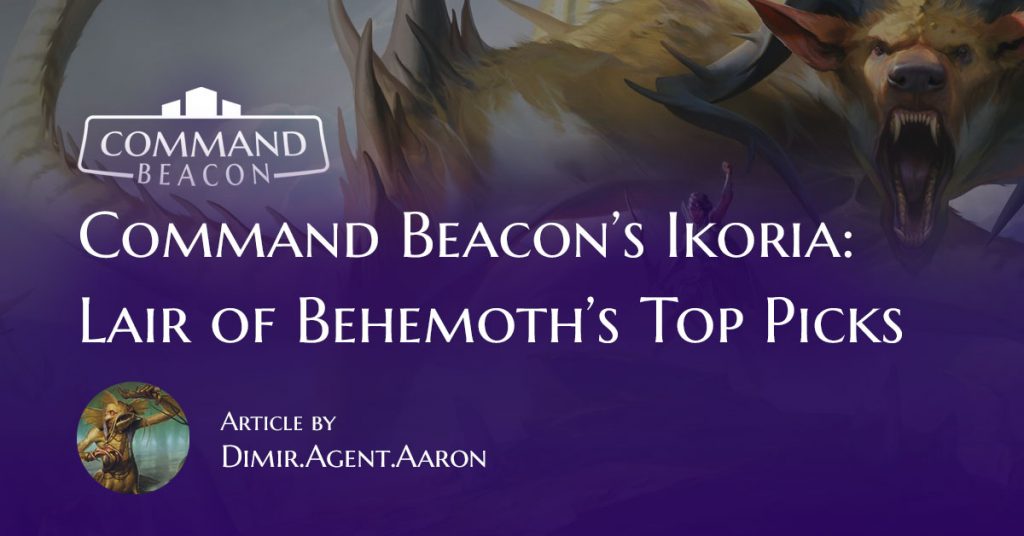 Ikoria: Lair of Behemoths is a wonderland for Commander players filled with incredible creatures and new toys to play with. Now what fun things from the set would make the good additions to our lovely collections. Let's take a look at our top picks for the Commander format from Ikoria.
Indatha Triome, Ketria Triome, Raugrin Triome, Savai Triome, Zagoth Triome
The Triome lands are not a surprising selection. The best comparison is the rare allied cycling land cycle from Amonkhet, which for any deck that could run them gave a good fetchland target. In comparison to the dual lands and shocklands which have the ability to come into play untapped albeit at a cost the cycling lands do not so taking them earlier with fetchland and leaving the lands that could be played untapped later was a strong play. They had their strengths and cycling them when you had an abundance of land is useful but the Triome lands are incredible for colour fixing. Whether with a fetchland or Farseek these are great lands to search for and does everything you need them to.
Eerie Ultimatum, Emergent Ultimatum, Genesis Ultimatum, Inspired Ultimatum, Ruinous Ultimatum
While I am grouping the Ultimatums together they are worth picking up and running where you can. They are much stronger than their Alara counterparts and are significantly more breakable. Whether you're reanimating your whole graveyard, tutoring for win cons and dropping in permanents, or destroying all your opponents non-land permanents these are incredible and potent. Inspired Ultimatum is the questionable one but it is card draw at least.
Indatha Crystal, Ketria Crystal, Raugrin Crystal, Savai Crystal, Zagoth Crystal
These new 3 cost mana rocks are a great fit for their corresponding 3 colour decks. Out of the staple mana rocks they would Commander's Sphere. Late game or when you have enough mana and would prefer something else cycle it away and keep digging through your deck.
The amount of new toys we get to play with goes on and on. There are staple lands and mana rocks and all sorts of fun creatures to break. Whether used with other Ikoria cards or not I feel the list is filled with strong options and even possible staples.
As for Commanders we've got a nice handful of options between the three colour legends, the humans, and the companions. We still have more though so let's take a look next time at the Commander 2020.